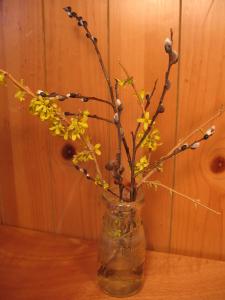 April 5, 2011

Last year spring came on like a freight train. This year itís in slow motion, one step forward and one step back into winter, three steps forward and two steps back. Today is a step-forward day; it is raining instead of snowing. This time last year I was planting seeds in my sunbox. This year it is still frozen and snow-covered.

The birds are beginning to stir. I saw two turkey vultures overhead yesterday, headed north. I startled a woodcock up from under my feet when I was out for a walk. Today when I went out for the mail I heard a red-winged blackbird singing up the valley somewhere, and blue jays calling in the pines. I saw the a pair of nuthatches this week, too. They have not been around all winter. And of course the chickadees are everywhere, and now they are singing their spring song in earnest.

The greatest news of all is that the pussy willows are blooming. That really makes it feel like spring. Here is a photo of pussy willows and some forsythia on my work desk. The forsythia is not blooming in the yard yet. This was a branch that I brought in and put in water for a few days, and it finally bloomed.