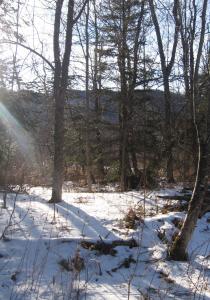 I went for a walk around the loop today, through our woods. It was about five below zero last night, and the crust on the snow was hard enough to support me in most places. The snow is not very deep yet. We have had only one significant snowfall, and even that has melted down to just a few inches. Not much of the wildlife is out and about. I saw a red squirrel playing around on the log pile this morning, and some small dark animal scurrying for cover across the snow under the bushes.

I saw the tracks of a very large deer on one side of the loop, and a couple of sets of coyote tracks on the other. Both followed the path for quite a distance. The coyote walked on the frozen stream bed for a while, too. Where the ice was smooth and glassy it had a thin covering of snow, just enough to show the coyote's tracks. I could see where his feet had slipped and slid on the ice. I have nothing in particular against coyotes, but I wish I could have seen him slithering around like that. It must have been quite a sight.

The sun was out, and low in the afternoon sky, as it always is at this time of year. When I looked toward the sun, the snow glistened and glinted with a thousand little glitters of rainbow color. I tried to get a photo of it, but the camera didn't see what I saw. We are supposed to get some more snow tonight, but the forecasters seem to be uncertain about how much.

I am enjoying loading the woodstove and working on my book. January has its comforts, and roasting in my armchair near the hearth is definitely at the top of my list.