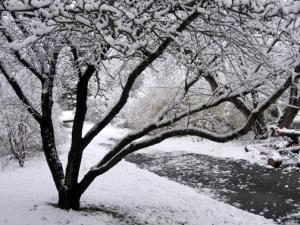 Winter Reprise (Fickle April)

My husband just came into my studio and threw a snowball at me. This is so wrong for April!

April is fickle, and winter is not done with us yet. We woke up two mornings ago to a wintry white world again. Four inches of snow had fallen overnight, and it kept falling all morning. It is almost all melted now, but Steve did manage to scrape together enough for a good-size snowball.

I heard a great horned owl out in the deep woods across the road again last night. This time it was a great bass voice, lower than the ones I have heard up until now. Apparently the big daddy has checked in. This may reduce our groundhog population some more.

Here is a continuation of the spring log:

April 13
White-throated sparrow back
Mountainsides changing color
(trees blooming)
Dutchman's breeches emerging
Greens in cold frame emerging
Garden plants sprouting in pots in the kitchen
Bloodroot still blooming
Chinodoxa blooming in flower bed
Saw a red fox
Lawn green (grass and weeds)

April 16
First fiddleheads up (small ones, near porch)

April 17
SNOW!!