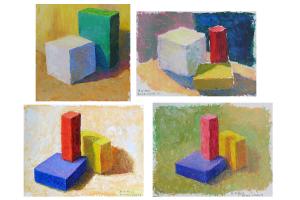 3-12-2010

"Boogie Chillen"

Do you know the old blues song "Boogie Chillen" sung by John Lee Hooker? "Let that boy boogie woogie, ´cause it's in him and it got to come out!" Well, the rainbow is in me and it got to come out. The images you see here are some simple studies of colored blocks that I have painted in the past couple of weeks, done for practice in seeing light and color.

Years ago I saw a painting by a current-day American impressionist and I thought, "I have GOT to learn to paint like that." I don't mean just painting with an "impressionistic" technique. I am talking about really seeing light and color accurately and being able to express it with paint. Finally the resources have caught up with me and I have been applying myself to really learn to see. And I am producing some paintings—simple block studies—that I am happier with than any oil paintings I have done so far.

Some writers write prose. Some write poetry. And some write both. My nature study drawings are my prose. These light and color paintings are sheer poetry. They are not literal, like the prose. They don't give you information about every surface detail and every nuance of form. But they give you a picture of what happens when the light hits an object. And it is, like a figure of speech, somehow truer than the literal truth about the object, a direct and spontaneous interpretation of how it hits me at that moment.

The real subject of the painting is the light, not the object you see. And that is something that I have been reaching for ever since I first picked up a paintbrush. When I was in my early teens, going to classes at the Cleveland Museum of Art, I took an outdoor watercolor painting class. I remember one painting in particular that I did, a simple sketch of a path with patterns of sunlight and tree shadows on it. And as I remember it was that painting that got the attention of my instructor and moved him to suggest that I be accepted into the special invitation-only classes that the museum had for teens. I'm still on the same track, looking at patterns of light and shadow.

To be able to express the weather and the time of day by the quality of the light in a painting, to show what the light is doing, to somehow convey to you the singing that happens in my heart when I look at something beautiful—that is what I am after.

You know what a red block looks like. You know the color we call "red." Some artists paint light and shadow using a formula: add white to the red for the sunlit plane and add black to the red for the shadow plane, or something like that. The impressionist way of painting a red block says, 'What color is that warm plane in the sun really? Orange? Pink? What color can I use to really convey the warmth of the sunlight and the truth of what my eyes are seeing?" The actual color of an object in the light is influenced by so many factors: the kind of light, the angle at which the light hits it, the colors of objects around it, how much moisture is in the air. No formula will encompass all these parameters. It becomes a matter of learning to really see what is in front of you, without preconceptions. And I should be wearing a big sign that says, "Caution—student painter," like they put on the driver's ed. cars.

The other issue I am dealing with is my penchant for surface detail and my facility with a brush. I have purposely switched to using a painting knife for these paintings so that I have to paint simply and directly. I want to focus on the light, not the objects, and in this case the surface detail would only get in my way. I can leave the painstaking description for when I am drawing, and be free to respond to the light and color when I am painting. I honestly enjoy painting with a knife; I like how uncomplicated and un-fussy it is.

I am not going to stop doing the naturalist thing, being the illustrator and making pages in my study book about the treasures I find in our valley. But I am going to occasionally cut loose to interpret what I find for you in terms of light and color, painting the poetry of it as well as the prose, as I get better at seeing it. Boogie!