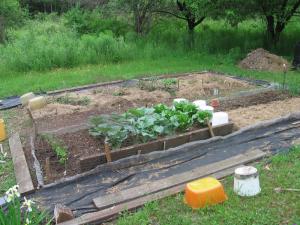 6-23-09
We have a family of groundhogs that has inhabited our neighborhood for many generations. They are a light-colored variety, almost strawberry blonde. We have had baby groundhogs under our porch, in our shed, and in our garden. They are cute and charming until they start eating all the produce. Our groundhogs, squirrels, and their kin seem to ebb and flow, depending on the predator population. Recently we have had a lot of foxes, coyotes, and large raptors and owls around, so the rodents are scarce. But we still have a groundhog family in the back yard hole, where the old barn originally was.
I was out hanging clothes on the line one afternoon not too long ago, and I heard a lot of noise coming from the shed, rummagings, scufflings, and shufflings that gradually became louder and louder. I looked up just in time to see the table by the shed door falling over and a groundhog barreling out of the shed. He disappeared around the corner in a flash. Then he peeked back around it as if to say, "What just happened?"
The encounter that really takes the cake was the come-to-Jesus meeting I had with a baby groundhog the first week of June this year. I was sitting on the front steps eating my lunch and saw a very small blonde furry rump in the grass beside my garden. It was a baby groundhog the size of a guinea pig, probably on his first foray away from the nest. I gave it some thought and decided that I had better give him an experience he wouldn't forget so that he would steer clear of my garden.
So I got up and ran straight at him across the driveway, yelling at the top of my lungs and waving my arms. He just sat there and looked at me in a puzzled sort of way. I got up to within six feet of him and he just stared at me. I gave him a good loud lecture about groundhogs, gardens, and what I would do to him if I ever found my lettuce eaten. I advanced on him fiercely, and he still just stared. He didn't seem to be frozen in fear, just curious.
He finally turned around and disappeared back toward the shed as if he had just remembered something else he had to go do. I imagine that he had some interesting things to tell mama groundhog when he got home. I will say this for him, we haven't put the electric fence up around the garden yet, but no one has eaten my lettuce.