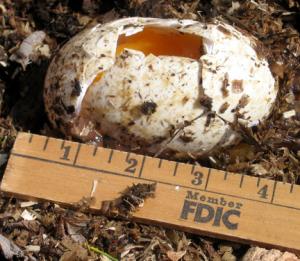 4-21-2010

Mysteries

This week my husband Steve was cleaning up the wood waste left from a winter of cutting and splitting firewood. The pile of rough "sawdust" from the chainsaw and chips from the splinter stood about three feet deep at the peak and covered an area about four by eight feet. When he was getting to the end of the pile, I heard him calling, "Betsy, come look! I just broke something!" I went to look.

It was an egg, a huge, fresh-looking, white-shelled egg that was buried in the sawdust. His rake had clipped it and the shell was cracked, showing the clear white and the yolk inside. It apparently had never been brooded; it looked as fresh as a chicken egg from the grocery store. But it was almost four inches long!

Now this is a real mystery. Whose egg was it? And how did it get buried in our sawdust pile? The two biggest birds we see are the turkeys and the vultures. Both of them have eggs that are speckled with brown, as far as I know. This egg was white, although it had sawdust stuck all over it. We do have neighbors half a mile up the valley who keep geese. The only thing I can figure is that maybe someone stole that egg from them, carried it down here, and hid it. If you have a better idea, let me know.

We do have foxes, and I saw one a few days ago, heading from our property back to its den on the other side of the road. And I found a story online, complete with photos, about a fox stealing goose eggs and hiding one for herself after she had fed her family. You can go see it at http://www.dailymail.co.uk/news/article-466429/Daring-raid-vixen-swims-river-times-steal-eggs-gooses-nest.html. So the evidence would possibly suggest that it was a fox who put that egg there. But this valley is certainly full of secret lives and doings that we know nothing about.

Very early this morning, well before dawn, I heard hooves clop-clopping southward down the road we live on. Now who was that, and where were they going? I doubt that it was a local equestrian out for a little starlight spin with their horse. I expect it was a moose, maybe more than one from the sound of it. I know that somebody saw it, because a while later I heard it clopping northward again, and it was met by a southbound truck. The clopping stopped as the truck came down the valley. The truck stopped, with a loud squeal of brakes. Silence. A few more cautious clops. And finally the truck started southbound again, very slowly.

In the winter, the fresh snow has stories to tell, if I could only read the tracks I find. But I am like a preschooler perusing a copy of Moby Dick. I can recognize a few letters here and there—"A, B, X"—but I sure can't read the story. I heard a great bass voice hoo-hoo-h-hooing out in the woods a couple of nights ago, but who was it? (I believe it was the male great horned owl.) The longer I live here, the more I learn. And the more I realize I don't know. I am okay with that. I never get bored. And what is life without a bit of mystery, anyway?