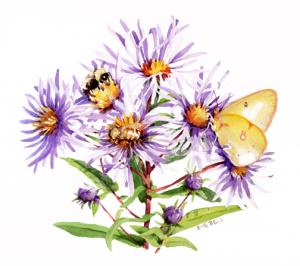 "Aster" is Latin for "star," and great constellations of them bloom in our meadow in the late summer and fall. The New England is the last and showiest of them all. Its great ragged purple and gold heads are summer's last hurrah around here, lingering long after many of the other flowers have faded. They are also called Michaelmas daisies, because they bloom around the time of the ancient holiday of Michaelmas, the feast of St. Michael the Archangel.

I have a page in my study book devoted to the New England aster, Symphotrichum novae-angliae. It has a cluster of handsome composite flowers with a stem as tall as I am. The disk flowers show a beautiful double spiral pattern. After the blooms are spent, the seed heads are soft and fluffy with dense pappi that help waft the seeds aloft in late fall breezes.

I had one spectacular photoshoot with the asters that last week of September. I caught them in the late afternoon when the sun was slanting through the meadow, and they were abuzz with bees of all sizes. I also captured a small yellow butterfly with my camera. He ignored me and went about his business with the asters, so I was able to get several good shots of him. I believe he was a pink-edged sulphur, or some variant thereof. From the photos I did a watercolor of the butterfly, bees, and asters.