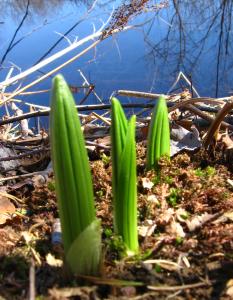 Today was the first really sunny warm day we have had this spring. The thermometer went all the way up to 62 degrees. I celebrated by going for a long ramble around our 8-acre woods this afternoon. I walked out the path on the west side of the loop to the far end of the property, and then came back along the stream that forms our western border.
Here is a laundry list of what I saw: a pair of ducks on the stream (black ducks, I think), a chipmunk on a stump, a fresh-dug hole in the path about 8Ē deep (who was digging for what there?), a robin, a kingfisher, some false hellebore putting its bright green sprouts above the ground (see the photo here), fiddleheads just beginning to show, deer tracks, raccoon tracks, water-beetles in the stream, a water-strider, and lots of small green sprouts peeking out from under the leaves. I heard a song sparrow and some wood frogs, but I didnít see them. Wood frogs sound quacky, like ducks.
I saw old signs of beavers, but no new work. They used to have several dams and extensive levees along the stream, and a house in our back yard. The largest dam is washed out. I think they must have departed sometime this past year.