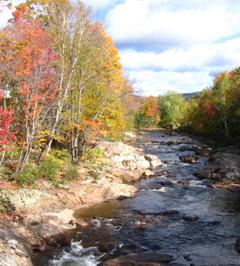 "Swift River Treasures" opens the treasure-box of the Swift River valley where I live, combining my passion for making art with my enjoyment of being an amateur naturalist. When I step out my front door in the morning, I can't take you along to enjoy the beauty with me. But I can capture bits of it to share with you.

Here is the process: I go for long rambling walks in the woods and fields near my home. Something catches my eye, some treasure of nature. I photograph it, and bring home a specimen for my museum if it is an abundant species. I take notes, writing about it in my journal. I learn all I can about it from my nature books and resources on the Internet. I put a photo page and an information page about it in my source book. I draw it carefully in my study book, investigating its structure and admiring its beauty. Then I make finished drawings, paintings, and prints of it to share. The finished artwork is really the tip of the iceberg, as far as the whole process goes.

I see myself more as providing a service than manufacturing a product. I am foraging for beauty here in the Swift River valley and sharing it with those of you who live in other parts of the world. I take so much delight in living here and learning about the treasures I find. My hope is that you will share in that delight with me.

The image shown here is a photo my mother took of the Swift River near our home.