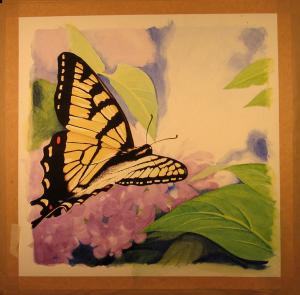 I couldn't look at this painting for a few days. I had to just set it aside and ignore it. Now I am looking at it and thinking that it is done. All that remains is to add my signature to it, and that always happens last, when I "sign off" on a work.
I purposely broke rules doing this one, and I think it came out all right. For one thing, never, never put the focal point of a painting bullseye in the center. One of the main ways to draw attention to a focal point is to make it the area of highest contrast, where the darkest tones meet the lightest tones, with the sharpest edges. In this painting, that is at the butterfly's head, where it is silhouetted against the sky. And that is dead center in the middle of the square. But it works, because the butterfly itself is so clearly the subject of the painting, and it is all on the left side of the composition.
The other thing to NOT do is to keep the foreground so separate from the background that you use totally different colors to paint each. Generally speaking, you need to mix background colors into the foreground, and vice versa, so that the whole painting will hang together. But I didn't want the painting to hang together. I wanted the butterfly to really be suspended above the background. And it worked, because the butterfly is purposely painted with warm colors, sharp edges, and high contrast, while the background is painted with cooler colors, soft edges and mid-range values.
What I don't like about the painting is that some parts of the background are really overworked. The ultramarine blue pigment tends to look a little grainy instead of smooth. And I really did labor over some parts of the background, painting them in and then washing out what I had done and redoing it. My Arches paper is fairly forgiving, but the washes could be much smoother and less muddy if I had painted them once and left them alone. I am getting better at the watercolors as I go, anyway.
What I really like best about this painting is the feeling of movement, and the impression that the butterfly is really flying in a 3-dimensional space. I like that I painted it by mixing the colors in layers on the paper, too. It gives the color a fine luminous quality.
All in all, I am pleased with it, and I think that I am ready to sign it.