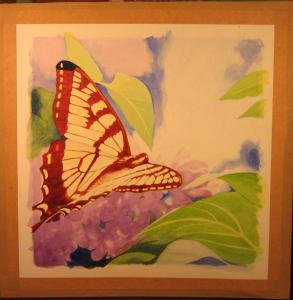 This photo shows the next stage in the painting. I have scrubbed out the lilacs a little with a dilute Winsor violet wash and a stencil brush. I want the flowers to be just a little out of focus, so they stay in the background.

And I have started the butterfly's black tiger stripes. I don't like using a black pigment straight out of the tube when I need black. Black pigment is black because it reflects almost no light back to your eyes. It looks dead next to the other colors. A mixed black still has the particles of the individual colors on the paper, so it looks more lively, even if it appears black.

I am mixing my black in this painting by putting down a layer of burnt sienna followed by a layer of ultramarine blue. That makes a very satisfactory black that you can push toward warm or cool very easily. You can see here that I have put the first layer of burnt sienna on the wings. At the upper left corner I have tried a small patch of ultramarine blue on top to see how the color is. I think it will do just fine. The next step will be to put the finishing touches on the burnt sienna layer, and then start laying down the blue on top of it.

I really wanted the butterfly to appear to float above the flowers and leaves in the background, and it looks like I am succeeding. Keeping the background cooler in color, lighter in value, and slightly blurred will do the trick. I also am pleased with how the composition is working out so far. I included a lot of strong diagonal lines so that the whole painting would have a feeling of motion.