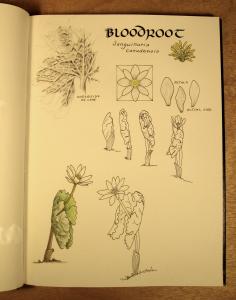 Journal entry from 4-21-09
Bloodroot
The bloodroot (Sanguinaria canadensis) is blooming in a shady corner of our backyard today, near the bend in the stream. Down by the Swift River, about a ten-minute walk from here, the woods will soon be a carpet of white stars. But the plants here by the house bloom first. This is the earliest I have ever seen it blossoming.
A member of the poppy family, bloodroot is well named. The sap in the roots and leaves is a startling scarlet color. I accidentally broke the bud off of a small stem with my clumsy boots when I was photographing the flowers this week, and the stem immediately began to ooze brilliant drops of red. I understand that native Americans used it for body paint. Dry, the juice looks exactly like a bloodstain. In the hands of a good medical practitioner, bloodroot is a potent medicine.
The plants work their way out of the ground well-protected from the harsh weather they sometimes face. The flower bud is covered by a pale green pair of sepals and completely wrapped in the large lobe-edged leaf. The sepals fall off as the flower opens. Even after the flower is open, the leaf still wraps shelteringly around the stem. They look like a company of star-people with grayish-green blankets wrapped snugly around their shoulders, nestled in the dry brown leaves from last summer.
Bloodroot is a very simple and economical plant. Each one consists of one leaf and one flower stalk. They only open their blooms on warm, sunny days. At night and or on a cloudy day like today, they are shut up tight.
The image here is a photo of the bloodroot page I have been working on in my study book.