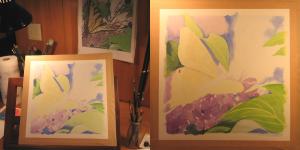 I have begun a watercolor painting of the tiger swallowtail on the lilacs. It is 12' by 12' in size. I am working from a photo that I took last summer. In the two-part image here you can see the painting on my desk on the left, with the first layer of paint on it. In the image on the right you can see it with the second round of glazes applied. The colors are deepened and more details added. You can see my reference photo on the wall behind the painting. What you can't see is that I also have my computer on the desk to the right with the original photo up on the screen.

I am trying something new here. One of the characteristics of watercolor paint is the transparency of the paint. It is almost like working with stained glass, where the white paper provides the white in the painting and also reflects the light back through the paint to your eye. I have two options when it comes to mixing the colors. I can mix them on my palette, which is the most common approach. Or I can use pure color straight from the tubes and mix the colors by layering washes of transparent paint, one color over another.

In this painting I have chosen the latter approach. The colors will hopefully be more brilliant, if I am careful. I must choose paint colors whose pigments are transparent (some pigments are more opaque than others). And it helps if they are colors that stain the paper well too, so that applying succeeding layers of color does not lift the layers underneath.

The leaves, for example, have layers of sap green, phthalo blue (a very greenish blue), and lemon yellow. The lilac flowers are mostly Winsor violet, with touches of permanent rose. The first layer on the wings was lemon yellow. I followed this up with some Winsor yellow deep in the darker areas and a touch of Winsor violet to shade it.

I will keep posting photos of my progress as I go, so you can check back once in a while and see how I am doing with it. Watercolor painting is always a risky business. I am hoping to be able to get the color I want without overworking the paper. Let's see if I can do it….